Property Latest: Mosman's prestige market kicks off for 2019 with luxury French Provincial home.
EVER WONDERED WHAT IT'S LIKE BEHIND THE FRONT DOORS OF OUR MOST SPECTACULAR HOMES? THIS YEAR, MOSMAN COLLECTIVE IS UNLOCKING THE GILDED GATES, TO BRING YOU REGULAR AND EXCLUSIVE V.I.P ACCESS, INSIDE OUR MOST LAVISH LOCAL PROPERTIES ON THE MARKET.
By ANNA USHER.
It only took a few moments for the current owners of this stunning French Provincial home to realise they'd found "the one".
The local family had been searching for a beautiful-yet-functional home for months, with plenty of open space for their young children.
And it was proving to be an uphill battle.
"We just couldn't seem to find anything that met our requirements," mum Lisa told Mosman Collective.
"Luckily, we weren't in a rush, so with time on our side, we waited for the right property to come along.
"Eventually, this one delivered in spades."
Sophisticated and stylish, 2 Major St, Mosman is a master class in elegant simplicity. Tucked away in an exclusive enclave (just off Prince Albert St), the home offers resort style living with complete privacy.
Listing agents Piers van Hamburg and Jacqui Rowland-Smith from Di Jones say the home is "picture perfect", with the owners recently completing a meticulous renovation.
"The level of detail from the letter box to the back fence is nothing short of incredible," Piers tells Mosman Collective.
"It's just one of those properties that ticks every single box, because it is the quintessential family home.
"Everything about it is perfect."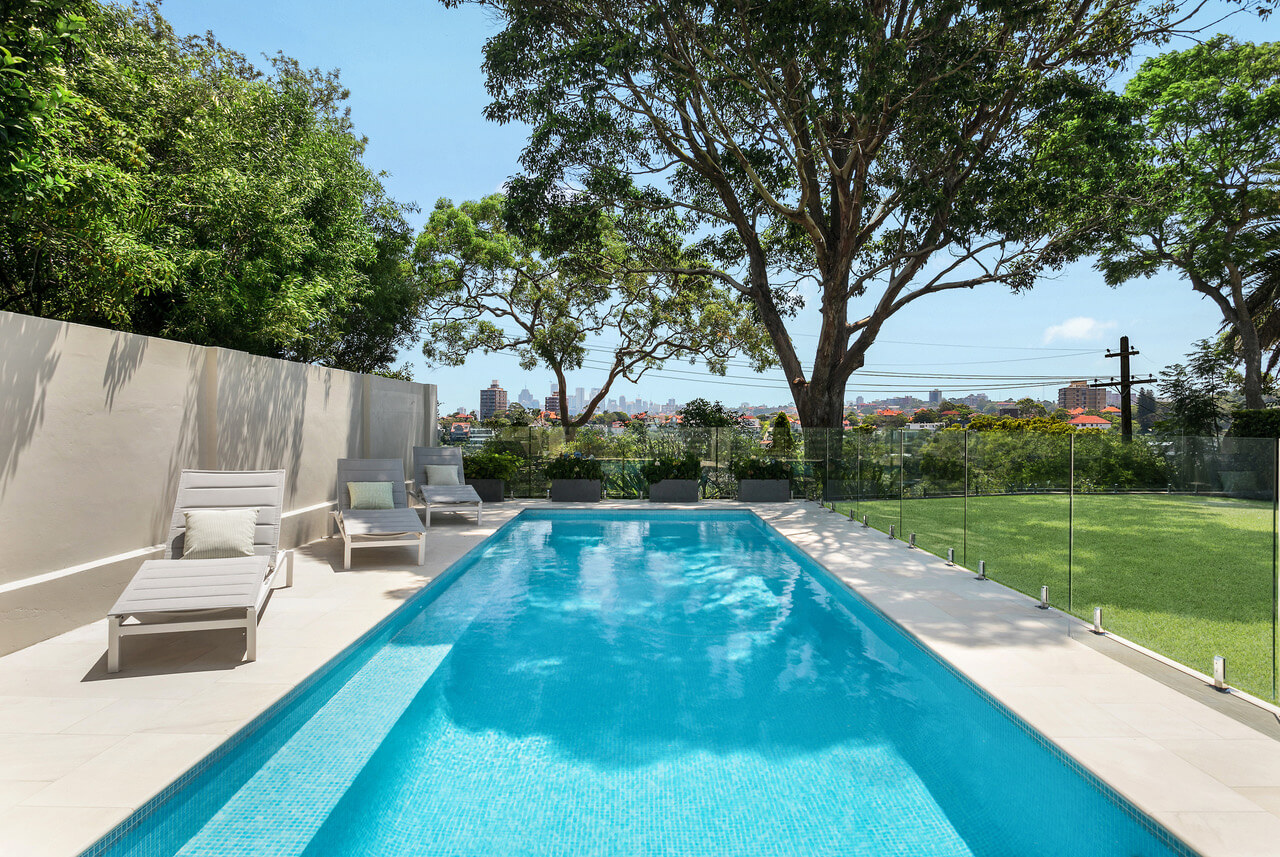 Set on 677sqm of manicured grounds, the luxury house boasts five bedrooms, four bathrooms and a spectacular marble feature kitchen.
Flexible living provides a variety of dining and casual spaces, with a vast terrace extending onto level lawns and a sparkling 12.5m fully tiled pool.
"Being able to throw all the doors and windows open in the summer has been a wonderful thing for us," Lisa said.
"The property has huge windows and everything about our home is light, bright - and quiet.
"In fact, the only real noise we get here is from the seals at Taronga Zoo!"
The two-storey residence has been cleverly designed, with four bedrooms and three bathrooms upstairs, providing a tranquil haven for families with children.
A huge master retreat, with walk-in wardrobe, ensuite and its own balcony provides a perfect escape for parents, that overlooks the picturesque gardens below.
Increased numbers of out-of-area buyers are appearing at Mosman open homes this year, with Jacqui saying the lower north shore has become a "popular choice" for families looking for bigger homes and good schools.
"Luxury homes in the Mosman area will continue to be in high demand, especially for families in the eastern suburbs looking to get more bang for their buck," she said.
"And this property is no exception."
2 Major St, Mosman
auctioN: Saturday, March 2, at 2pm.
Inspect Thur + Sat 1:15pm-1:45pm
PRICE GUIDE $7m - $7.5m
Mosman Collective's "Property of the Week" is sponsored content.