Royal Wedding Special: We celebrate Mosman's fairytale Brides as Harry and Meghan tie the knot!
EVERYONE LOVES A WEDDING, AND WITH THE EYES OF THE WORLD ON WINDSOR THIS WEEKEND, MOSMAN RESIDENTS ARE GETTING READY TO CELEBRATE, WITH SCORES OF PRIVATE PARTIES TAKING PLACE INSIDE LOCAL HOMES. TODAY, WE TAKE A LOOK BACK AT SOME OF OUR VERY OWN BEAUTIFUL BRIDES (AND GROOMS!) WHO'VE SHARED THEIR FAIRYTALE UNIONS WITH MOSMAN COLLECTIVE!
James and Viktoria Spenceley
Local residents James and Viktoria Spenceley were married on March 31st, 2007 at the Mosman Uniting Church.
The Founder and former CEO of Vocus Communications held an intimate reception for family and close friends at Il Perugino on Avenue Rd.
When James stepped down from his business in 2016, Vocus had a market capitalisation of over $5 billion (yes, that's a B!)
These days, James is an investor, Chairman of Airtasker and with his stunning Bride, has two beautiful children; Sienna and Roman.
Will Stewart and Maggie Kiani
Will Stewart, one of our favourite Mosman Collective mates, married his beautiful Bride Maggie, at Bathers Pavilion on April 9th, 2013.
The M.K.R winner, who's one half of the famed "Will and Steve" duo, tied the knot on the same year he moved from the UK to Australia.
"It was also the year I was made redundant," he laughs.
Thankfully, things have never looked brighter for the talented chef and TV personality!
Ben Leighton-Clark and Jane Holcombe
Barrister Ben and his beautiful Bride, Jane married on July 24th, 1997 at the Garrison Church, The Rocks.
The ceremony was followed by a black-tie reception for 120 at the Royal Automobile Club in the city.
The popular couple with their two boys, have lived in the local area for years. They divide their time between Mosman and their family farm, near Goulburn.
Doesn't Jane make the most regal Bride?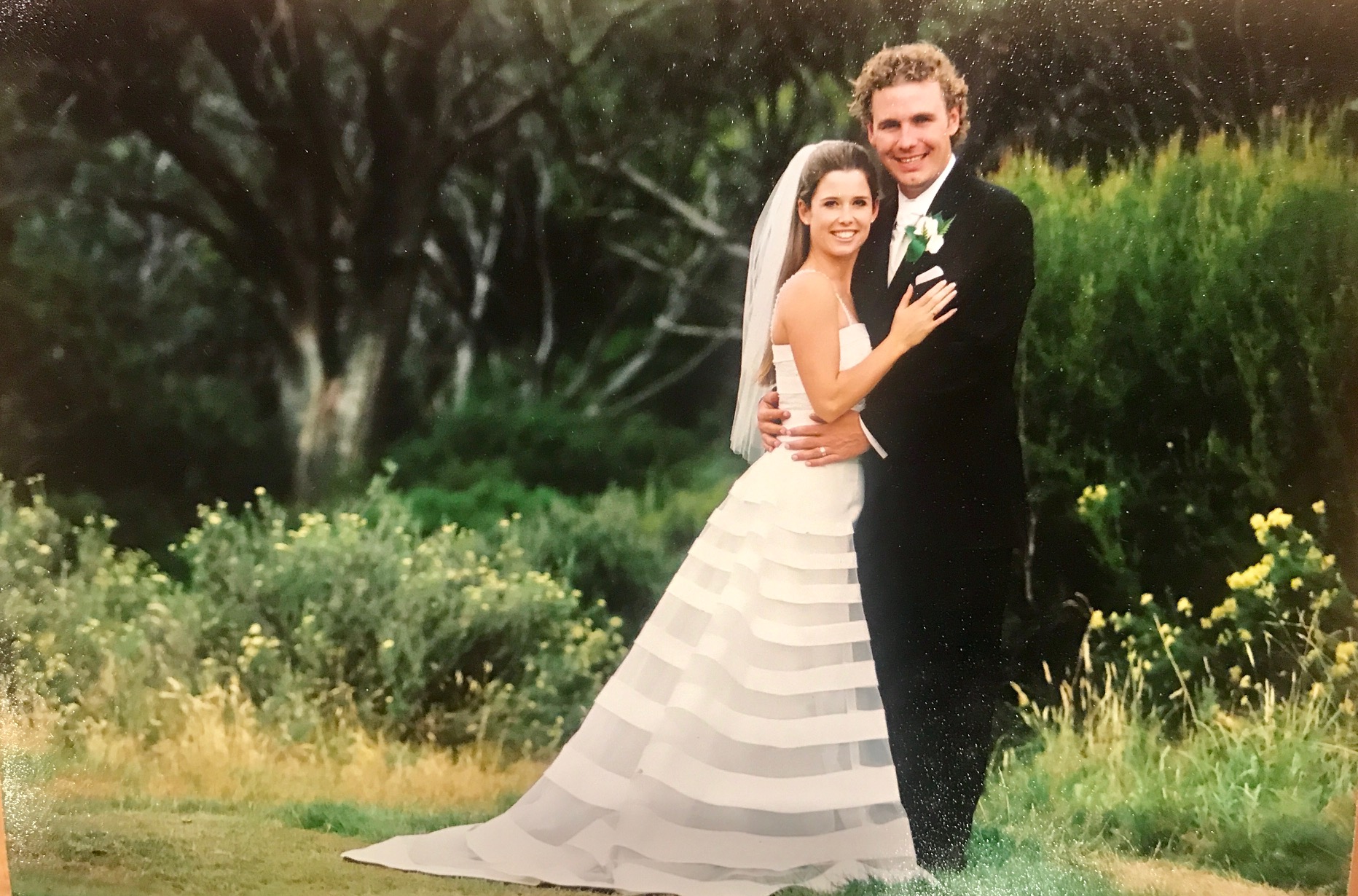 Amber Higlett and Chris Sherlock
Nine News Presenter Amber Sherlock married her husband Chris on March 8th, 2004 in Thredbo.
"It was a wonderful weekend away in the mountains and our wedding day was perfect," Amber says.
"Blue sky, lots of laughs and a party that lasted well into the night!"
Michael Coombs and Mia Timms
The magical matrimony of Michael Coombs and his stunning Bride Mia, took place on April 16th 2015, in Bali.
Known as one of the country's top Real Estate Agents, Michael describes the wedding as the best day of his life, "without a doubt".
"I hit the jackpot when I married Mia and we are every bit the perfect pair," he tells us.
"We are so fortunate to be on this wonderful journey together, and in a few weeks time we'll welcome the birth of our first child.
Susan Burt and David Jenkins
These days, Susan Burt is known and loved as Sue Jenkins, owner of Mosman institution, Accoutrement.
Sue and David were married at the Shore Chapel on October 21st, 1966.
A gala reception followed for well heeled guests at the Royal Sydney Yacht Squadron, Kirribilli.
The pair recall a magnificent day shared with family and friends, and wonderful memories that have lasted a lifetime.
And yes, Sue and David continue to live happily ever after!
Celebrity couple Sarah and Rick Stein eloped in Sydney on October 7th, 2011.
Sarah (Sas) tells us that the pair married at 9:30am in the Registry Office at Surry Hills, followed by a celebration lunch at Bondi Icebergs.
"We did however manage a couple of big shin digs after our wedding day," Sas says.
"One at our beach house in Mollymook and another event at the Sketch Club in London."
Marissa Rancan and John Craig
Marissa and John tied the knot on June 25th, 1988 at St Marks Church, Darling Point.
The dazzling reception was held in the ballroom of Sydney's Intercontinental Hotel, with the Bride wearing a dress hand made by her mother.
"It was incredible," Marissa says.
"My mum imported the fabric from Italy and it had crystals and sequins and diamantes - you name it!"
"The flowers were supplied by the team at David Jones and their clever window dressers - it was a truly amazing day with 150 of our nearest and dearest," Marissa told Mosman Collective.
Christine Barrett and David Housego
Christine Barrett is perhaps better known these days as Chris Housego from East Coast Lounge.
She married David Housego on April 28th, 1990 in the Chapel at St Ignatius College, Riverview.
The pair held a reception at Shores, The Spit for 100 friends and family which Chris describes as a "truly wonderful" night.
She wore a stunning, ivory silk dress made by her designer/dressmaker Mum and a dapper David wore his Military uniform (1st Fifteenth Royal NSW Lancers).
WOULD YOU LIKE US TO FEATURE YOUR WEDDING SNAPS ON THIS HISTORIC WEEKEND?
GET IN TOUCH!
SHARE THIS STORY!