Exclusive: The fashion rule EVERY female Royal Wedding guest must follow!
By ANNA USHER
It comes as no surprise to learn that there are a number of strict rules in place, for the 600 lucky guests invited to Prince Harry and Meghan Markle's wedding this weekend.
For the uninitiated (hello, American attendees!) there's a LOT to remember, and it's said that seven pages of "critical guidance" were sent out with the invitations a few weeks ago.
No swords, no phones, no presents and no catching the bouquet have all been mentioned, along with instructions NOT to approach the Queen. Guests instead must wait for the Monarch to approach them, and if she does, we trust the ladies have been practising their curtsy!
But perhaps the most important fashion rule for those who are Windsor bound this weekend, is that all women MUST wear a hat.
Royal protocol dictates that females must wear hats to all official occasions. It's a rule that dates back to early last century, when upper class and Royal ladies rarely showed their hair in public.
There have been some classic examples of Royal Wedding head pieces over the years, and we've asked famed Mosman milliners Ann Shoebridge and Carolyn Unwin to give us their Top 10 favourites.
ROYAL HATS: THE BOLD AND THE SIMPLY BRILLIANT!
The Queen wore this two piece yellow outfit to the wedding of Prince William and Kate Middleton in 2011.
Ann says the strong and bold boater, by English designer Angela Kelly is a "timeless" style and suits the Monarch perfectly.
Image: Getty Images
This chic blue jersey turban would work in 2018, Ann says.
The Philip Somerville hat was worn during an official tour to the Gulf States in 1989.
"She really couldn't put a fashion foot wrong, could she?" says Ann.
"Sublime chic and razor sharp" is how Ann describes this hat, designed by Philip Treacy and worn by Zara Phillips at the wedding of Prince William and Kate Middleton in 2011.
"It was most likely a test of physics, but what an absolutely stunning creation," says Ann.
Image: Getty Images
Camilla, Duchess of Cornwall
Carolyn describes this headpiece as a "masterpiece" and her all time favourite Royal Wedding hat.
"Every individual feather is beautifully shaped, and then combined into a finished work of beauty," she says.
"It's a piece that looks formal, but also has a beautiful freedom of expression.
"And, most importantly, it adds to the beauty of the woman."
Both Carolyn and Ann have nominated this hat as one of their Royal favourites.
Worn to the wedding of Prince Charles and Diana Spencer in 1983, this yellow creation from designer John Boyd is "sunny and gorgeous", says Ann.
"She's known for being frumpy, but here Princess Anne looks a true delight in a contemporary wisp of tulle and silk flowers," Ann tells us.
Carolyn agrees that the Queen's daughter "totally pulled off" the exuberant look.
"It was a one off moment and it worked brilliantly," Carolyn says.
Ann Shoebridge says this hat, worn by The Queen Mother to the wedding of Prince Andrew and Sarah Ferguson in 1986, is simply divine and a Masterclass in workmanship.
"The shade suits her perfectly, with those soft, aigrette feathers gently framing her face."
Image: Getty Images
Carolyn describes the style of Duchess Kate as "faultless" and says her outfit choice for the wedding of sister Pippa Middleton, in 2017, was carefully chosen to avoid "upstaging" the Bride.
"A rose pink midi dress by Alexander McQueen and a rose topped hat by milliner Jane Taylor was an exercise in restraint and absolute perfection," Carolyn says.
"As always, Kate looks immaculate and stunning, with the hat matching her outfit beautifully."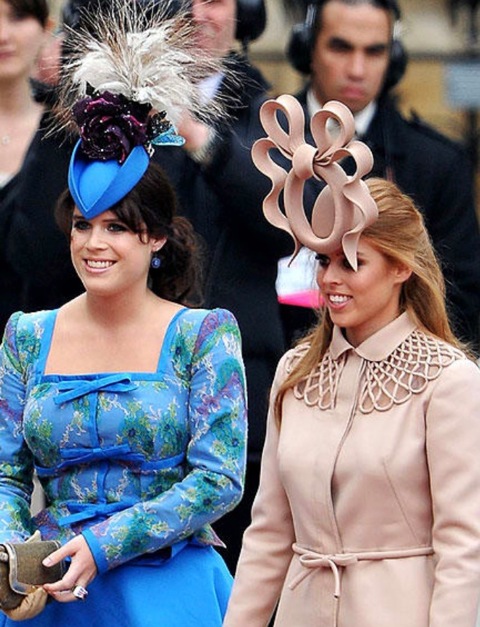 Princesses Eugenie and Beatrice
"Well, well, well," laughs Ann.
A little known fact, she says, is that the milliner who designed these hats was actually said to be more concerned with the feathered frippery on top of Eugenie's hat.
"He was shocked and absolutely surprised by the public outrage that came with Beatrice's eccentric toilet/alien fashion disaster," Ann says.
"However I must say it is structurally brilliant!"
Image: Getty Images
"Yes, she is controversial," says Ann.
"But Princess Michael of Kent has innate style, favouring broad brimmed hats set at a slight angle."
"And, once again, tone comes into play," Ann says.
This ensemble was worn at Royal Ascot in 2016.
Image: Getty Images.
The daughter of Fergie and Prince Andrew almost stole the show at the wedding of Peter Phillips and Autumn Kelly in 2008, with this butterfly strewn headpiece, by Philip Treacy.
"It was bold - and it was brilliant," says Carolyn.
"She's a brave girl and she managed to pull this one off.
"We can only guess what stunning creation is in store at the wedding of Harry and Meghan this weekend - I'm sure we'll be reading about it in the Sunday papers!"
LOOKING FOR A SPECIAL OCCASION HAT?
SHARE THIS STORY!