Beauty Insider: Makeup Expert Reveals How To Look Great In Five Minutes!
AS BUSY WOMEN JUGGLING WORK, KIDS AND FAMILY, WE DON'T ALWAYS HAVE TIME FOR A FULL MAKEUP TRANSFORMATION IN THE MORNINGS. BUT MOSMAN BEAUTY EXPERT MARISSA RANCAN HAS A QUICK AND EASY BEAUTY ROUTINE, THAT PROMISES TO LEAVE YOU LOOKING FRESH AND FABULOUS, IN UNDER FIVE MINUTES!
Always start with a moisturiser.
A tinted moisturiser is also great to even out skin tones, and remember to look for a formula that leaves a dewy finish and has SPF.
Apply a Primer to your T-zone and be sure to hit the lower half of your forehead, the sides of your nose, chin and eyelids. A primer is like an insurance policy for your foundation and it will ensure your makeup lasts longer.
If you haven't used a tinted moisturiser (see Step 1), now is the time to apply your foundation.
Please note that it should NOT be worn like a mask. You want your skin to look like SKIN, especially when you are over 40!
This always gets applied AFTER foundation. With a touch up pen or concealer pot, draw an upside down triangle under your eyes. Blend well with your ring finger (which is the weakest digit) to help prevent wrinkles.
If you don't have a lash curler, please get one!
This is a must have device in your beauty arsenal and opens up your eyes, making you look more awake (and younger!)
A cream eye shadow (make sure it's a neutral tone) will last up to 12 hours.
A bonus is that you can add any powder eye shadow over the top, and it won't crease or budge.
Use fingers to apply cream eye shadow to the whole lid.
Apply mascara to upper and lower lashes.
Use a brow pencil and brush/blend your brows carefully. You'll find that they are more defined, they frame your eyes and instantly make you appear more polished (regular grooming helps too!)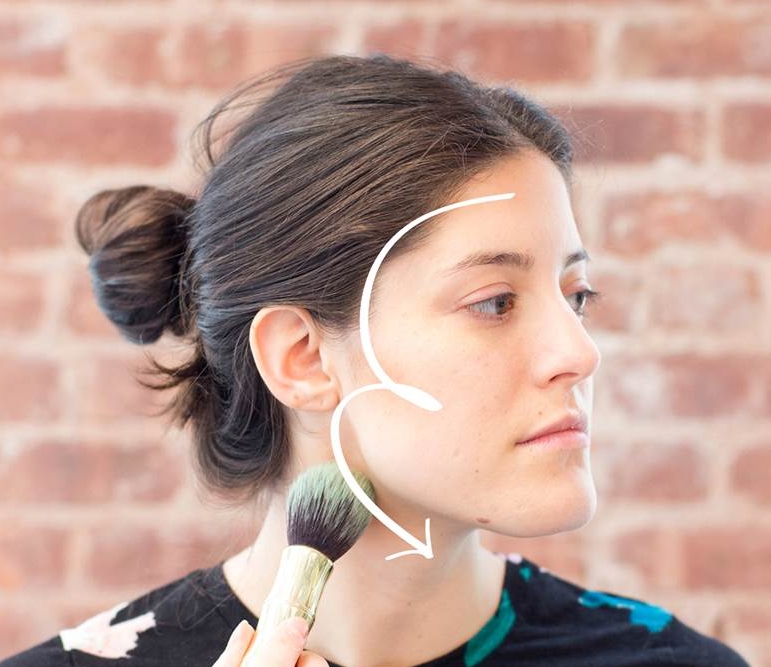 There is no need to smother your face in bronzer these days! A great tip is to use your bronzer sparingly, concentrating on contouring the sides of your face.
Think of drawing the number 3 from your crown, to your cheekbones, to your jawline.
One of my favourite hacks is to use my lip liner to draw and colour in all of my lips.
It provides a great base for the lipstick or lip gloss that you need to apply over the top. And it will last for hours!
Use powder last, on your T-zone.
Brush the centre of your forehead, the sides of the nose, and lightly across your chin.
MARISSA RANCAN IS SENIOR ARTIST AT MAC COSMETICS - AND AVAILABLE FOR FREELANCE MAKEOVERS
Ph: 0418 967 866
SHARE THIS STORY!