Exclusive Pictures: Mosman celebrates as Penny Royal owners say "I do"!
IT'S OFFICIAL! SAME SEX COUPLES CAN LEGALLY GET MARRIED IN AUSTRALIA. ACROSS THE NATION, MILLIONS ARE CELEBRATING A HUGE STEP FORWARD FOR EQUALITY, AS WE BECOME THE 25TH COUNTRY TO RECOGNISE THE UNIONS.
BUT RATHER THAN TAKING THEIR VOWS HERE, MOSMAN COUPLE CHLOE DONNELLY AND CHLOE DUNN DECIDED ON A LOW KEY OPTION, QUIETLY MARRYING IN NEW YORK THIS WEEK. THEY SHARE THEIR STORY EXCLUSIVELY WITH MOSMAN COLLECTIVE'S ANNA USHER.
Exclusive Photography by GRAHAM MONRO
They've overcome many hurdles on their way to the altar, but it was an impending New York snow storm, the most brutal in years, that almost ended the wedding hopes of a popular Mosman couple this week.
With dangerously cold weather hammering the U.S East Coast, things were looking sketchy for Penny Royal café owners Chloe Donnelly and Chloe Dunn, who travelled to the Big Apple to tie the knot on January 3.
"On our first trip to the US, and our first time in New York, I arrived with a raging fever and the worst case of the flu," Chloe Donnelly tells Mosman Collective.
"And then we found out that an intense weather event was fast approaching.
"Our timing, as usual – was impeccable," she laughs.
The 'intense weather event' was in fact a super snowstorm, known as a "bomb cyclone", that would eventually bring the city to a total standstill, leaving at least six people dead.
"As luck would have it, we had a window of brilliant sunshine and although the temperature was -4 degrees celcius, the day we married couldn't have been more perfect," Chloe says.
"The Chloes" as they are affectionately known to Mosman locals, officially sealed their vows with a kiss inside New York's City Hall at 1:30pm last Wednesday, with Penny Royal staffer Bart Rollins multi-tasking as both Best Man and Maid of Honour.
"I honestly find it hard to describe the feeling that overwhelmed us after we said our vows," Chloe said.
"It's been such a long journey for Chlo and I and we just feel like giddy teenagers at the moment.
"This is the most wonderful thing that's ever happened – for both of us."
When you meet "The Chloes" for the first time, it's impossible not to instantly like them.
Together for almost seven years, they are a dynamic and talented team, living and working together six days a week at Penny Royal; the uber cool Myagah Mews café that's become a firm favourite on our local food scene.
Bright and bubbly with a pair of dancing blue eyes and a shock of short blonde hair, Chloe Donnelly says it was "love at first sight", when the pair first met at a Freshwater coffee shop.
"I had moved back from Queensland and I was working at this place in Freshie where Chlo came every day to get her coffee," Chloe, aged 30, says.
"Getting married is not just a piece of paper, its the ultimate question you can ever ask someone."
"I was trying to work out for weeks who she was dating and whether she had a boyfriend, or a girlfriend.
"She was the most stunning woman I'd ever laid eyes on, but with the glorious outside package came this beautiful, kind soul.
"I had a crappy shift one day and Chlo came in for coffee and asked if I was ok – and that was the start of a true friendship that quickly developed into a relationship," she recalls.
"Chlo" is 26-year-old Chloe Dunn; petite, dark haired and graceful, who describes her relationship as "a perfect pairing".
"At work, I look after the kitchen and everything that comes with it," Chlo says.
"We have become such a strong and united team personally and professionally - and it feels like there's nothing we can't achieve now that we're married.
"It sounds cheesy, but this is a dream come true for both of us," she smiles.
With support from both sides of their family and the love from Mosman locals, "The Chloes" decided not to legally wed in Australia, where both felt they would be "put under the spotlight" thanks to our historical new marriage laws.
"We just wanted get married under the radar, without being the centre of attention," Chloe said.
"We didn't want any fanfare or marching bands and fireworks – because being gay doesn't define us.
"Getting married is the ultimate in acceptance. It's more than just a piece of paper for us because it's our promise that we've chosen to travel on life's journey together, through everything that comes our way."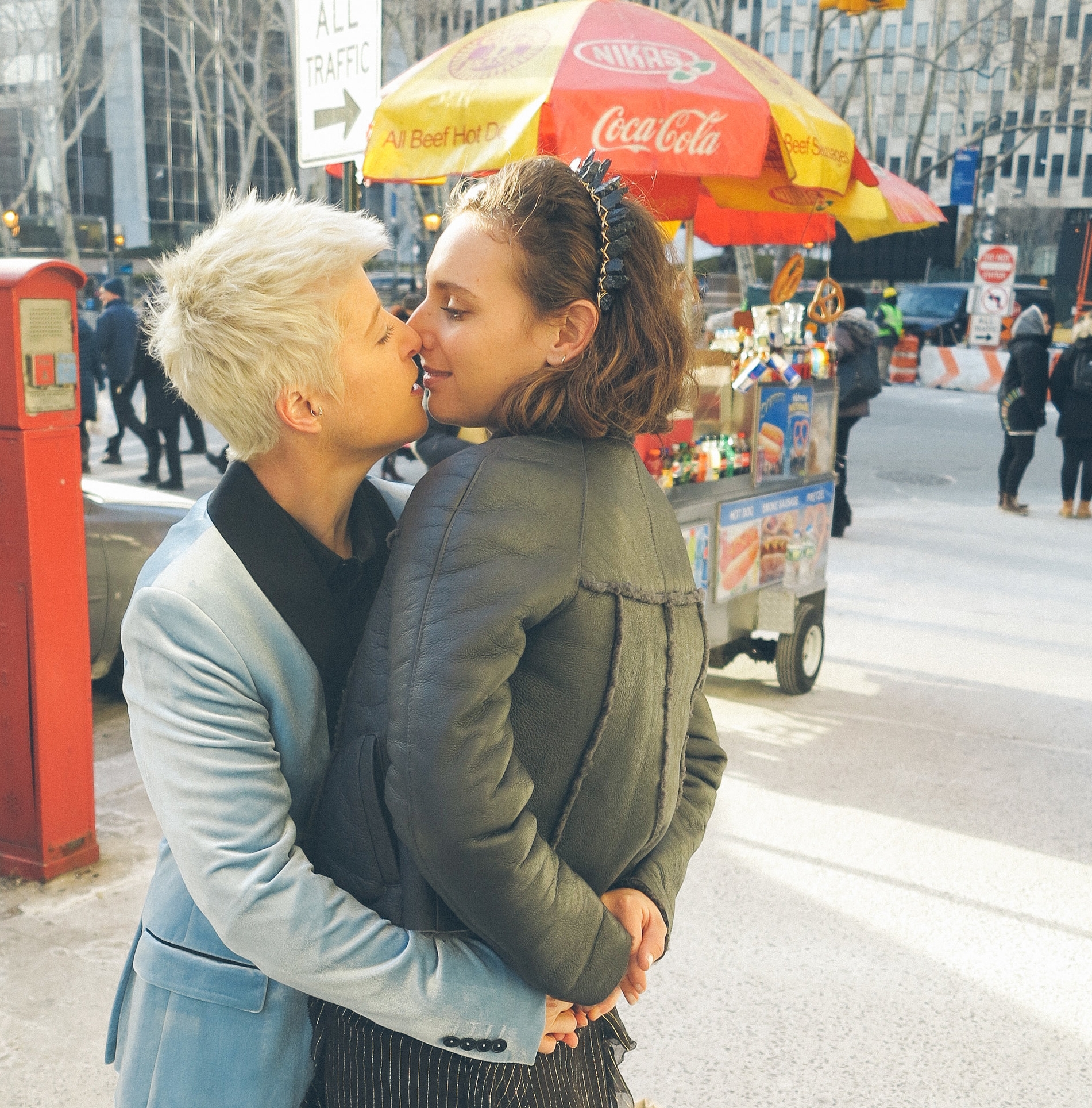 "We just wanted to get married under the radar, without being the centre of attention."
Now on a United States honeymoon, taking in New Orleans, Las Vegas, San Francisco and Hawaii, "The Chloes" will be back on deck at the Penny Royal by the end of the month – and say a local celebration is in the works.
"Nothing formal, probably a just low-key dinner with our nearest and dearest to celebrate our marriage," Chloe says.
"And then it will be business as usual at the Penny Royal.
"We are forever thankful to our Mosman customers and friends for their amazing encouragement, support and love."
Send your congratulations to "The Chloes" in the comments below!
* Editors note: Images may not be used without the permission of Mosman Collective.
Have you got a good news story for Mosman Collective?
Join our community:
Facebook: HERE
SHARE THIS STORY NOW!